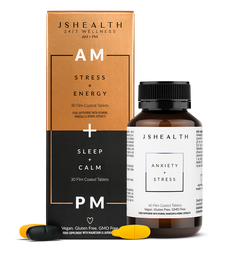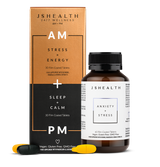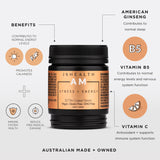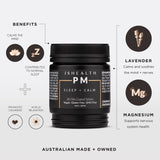 Anxiety + Stress Kit
Anxiety + Stress Kit contains ingredients used in herbal tradition to help support the occurrence... More
Anxiety + Stress Kit contains ingredients used in herbal tradition to help support the occurrence of symptoms of mild anxiety and help the body adapt to stress, along with AM + PM for general wellbeing, and Fish Oil+ for emotional wellbeing.


people have just viewed this formula
Exclusive member savings
Cancel or edit at anytime
Regular rewards + gifts!
Access to the JSHealth App
Early access to sales!
Refer to the individual product pages for full ingredients, indications and warnings.
♻︎ All JSHealth Vitamins are recyclable in your normal household recycling. We use HDPE & PET recyclable plastic to reduce packaging waste. Please recycle your bottles.
AM+PM Multivitamin: Take one AM tablet once in the morning with breakfast. Take one PM tablet in the evening.
Anxiety + Stress: Take 1 tablet twice a day with meals, or as directed by a healthcare professional.
Fish Oil+: Take recommended dose with meals, or as directed by a healthcare professional:
General health and wellbeing: 1-2 capsules daily.

General mental wellbeing: 1-2 capsules daily.

Emotional wellbeing: 3 capsules daily.
WARNINGS:
Always read the label. Follow the directions for use. If symptoms persist, talk to your health professional. Vitamins and minerals can only be of assistance if dietary intake is inadequate.

Store below 25°C in a cool, dry place away from sunlight.

Do not use if the seal on cap/lid has been broken.

The AM vitamins contain Selenium which is toxic in high doses. A daily dose of 150 micrograms for adults of Selenium from dietary supplements should not be exceeded (AM+PM Multivitamin).

We advise that you consult your medical professional for anxiety conditions to find the best treatment for your individual needs, as well as to consult one before adding the Anxiety + Stress formula to your routine to assess whether it will be suitable for you (Anxiety + Stress).
Refer to the individual product pages for what makes each of these formulas unique!
QUALITY + CARE:

Our team of health experts source the ingredients in our products with great care. We ensure quality and specific doses of actives are placed in each of our targeted formulas to achieve its indications.
We believe in nourishing your health, confidence and wellbeing with a holistic approach.
Customer Reviews
Individual results may vary.