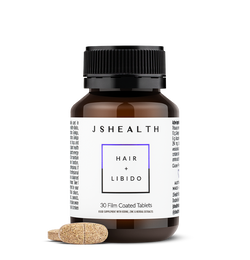 Hair + Libido Formula - 1 Month Supply
Our sexiest dual formula comes with many benefits. It is designed with ingredients that can... More
Our sexiest dual formula comes with many benefits. It is designed with ingredients that can contribute to healthy sexual function, hair health and energy production with one tablet a day.


people have just viewed this formula
Exclusive member savings
Cancel or edit at anytime
Regular rewards + gifts!
Access to the JSHealth App
Early access to sales!
Our sexiest dual formula
Nutritionist formulated in Australia
Can contribute to healthy sexual function
Supports healthy hair
Contributes to healthy blood circulation
Maintains energy production
Designed for men, women and everyone 18+
Hair + Libido Formula - 30 Tablets. Australian Made.
Where science meets sex! Designed for men, women and everyone 18+.
Two new ingredients which contribute to sexual function have been added to our original best-selling Hair + Energy formula to take this vitamin to a whole new level for results both inside and outside the bedroom.
LIBIDO + SEXUAL FUNCTION: Tribulus can contribute to healthy sexual function. We have also added Ginkgo. Plus, it contains Zinc which contributes to normal fertility and reproduction, and the maintenance of normal testosterone levels in the blood. Zinc also supports hair health.
+
HAIR: Iodine from our exclusive JSHealth Kelp™ contributes to hair health. Zinc helps maintain normal healthy hair, skin and nails.
ENERGY: Iodine can regulate metabolism and support energy production throughout the body. It also contributes to normal thyroid function.
Take a look at the verified customer results below.
Carefully formulated to care for you.

The JSHealth Hair + Libido formula contains herbs Tribulus and Ginkgo, along with two forms of Kelp rich in Iodine, plus Zinc.
Active ingredients per film coated capsule:
Tribulus terrestris (Tribulus) ext. dry conc. 200 mg
from dry fruit 10 g
Ginkgo biloba (Ginkgo) ext. dry conc. 120 mg
from dry leaf 6 g
Fucus vesiculosus whole plant ext. dry conc. 50 mg
equiv. Fucus vesiculosus whole plant dry 1 g
equiv. Iodine 10 micrograms

Ascophyllum nodosum blade and stem powder dry 211.11 mg
equiv. Iodine 190 micrograms
Total Iodine 200 micrograms
Zinc amino acid chelate 50 mg
equiv. Zinc 10 mg
Ingredients: Bulking agent (Microcrystalline cellulose), Kelp (Ascophyllum nodosum) stem and blade powder, Tribulus terrestris fruit 50:1 extract, Gingko biloba leaf 50:1 extract, Zinc amino acid chelate, Kelp (Fucus vesiculosus) whole plant 20:1 extract, Disintegrant (Povidone), Bulking agent (Dicalcium phosphate), Disintegrant (Croscarmellose sodium), Disintegrant (Crospovidone), Anti-caking agent (Silicon dioxide), Anti-caking agent (Magnesium stearate), Tablet coating (Hypromellose, Polyethylene glycol, Peppermint oil, Glazing agent [Carnauba wax]), Lavender (Lavandula angustifolia) flower essential oil.
The coating of this tablet contains peppermint oil and lavender oil used as a scent.
Does not contain egg, milk, peanut, or sesame products, or artificial colours. Traces of crustacea, mollusc and fish are possible through exposure of Fucus vesiculosus and Ascophyllum nodosum in the marine environment.
♻︎ All JSHealth Vitamins are recyclable in your normal household recycling. We use HDPE and PET recyclable plastic to reduce packaging waste. Please recycle your bottles.
Take 1 film coated tablet per day, with breakfast.
Do not exceed the recommended daily amounts.
Food supplements should not be used as a substitute for a varied and balanced diet and a healthy lifestyle.
If you are pregnant, breastfeeding or under medical supervision or have a thyroid condition, as always, follow the advice of your healthcare professional when taking food supplements.
Store in a cool, dry place away from direct heat and sunlight.
Keep out of reach of children.
Do not use if the cap seal is broken or missing.
This is an international product. Slight variations to label text may occasionally occur.
We've taken our best-selling Hair + Energy formula and enhanced it with two additional ingredients to offer comprehensive care when it comes to your libido, sexual function, hair health and energy.
Convenience of one tablet a day
Multi-benefit approach for libido, hair and energy
Made with exclusive JSHealth Kelp™
Nutritionist formulated in Australia
Meet JSHealth Kelp™
We use two high-purity kelp materials in our Hair + Energy formula. We love our JSHealth Kelp™ so much, we actually trademarked it. This kelp grows in the pristine ocean waters of Nova Scotia and Brittany, where it is harvested on an environmentally sustainable basis.
QUALITY + CARE:
Our team of health experts source the ingredients in our products with great care. We ensure quality actives are placed in each of our targeted formulas to achieve its indications.
We believe in nourishing your health, confidence and wellbeing with a holistic approach.
The research behind our ingredients:
TRIBULUS
Can contribute to healthy sexual function
GINKGO
Can contribute to circulation
IODINE (from JSHEALTH KELP™)
Maintains and supports energy production
Maintains and supports body metabolism
Maintains and supports healthy thyroid gland function and thyroid hormones
Aids and assists thyroid hormone production
Maintains and supports cognitive function
Maintains and supports general health and wellbeing
ZINC
Maintains and supports healthy reproductive hormones
Maintains and supports testosterone levels
Maintains and supports reproductive system health in males
Maintains and supports female reproductive system health
Maintains and supports preconception health in healthy males
Maintains and supports immune system health
Supports general health and wellbeing
Supports hair health
Supports hair growth
Maintains and supports cognitive function
Maintains and supports skin health
Maintains and supports nail health and strength
Assists glucose and carbohydrate metabolism
Helps metabolism of sugar
Helps protein synthesis in the body
Maintains and supports nervous system health
Protects cells against oxidative damage
Estimated delivery times (business days).
Standard Shipping 3-5 Business Days (€7)
FREE for orders over €50
Express Shipping 1-2 Business Days (€12) via DHL Express
FREE for orders over €100
KEY INGREDIENTS
JSHealth believes in truly nurturing the body and nourishing it with the right nutrients, minerals and herbs to reach its full potential.
Tribulus
Can contribute to healthy sexual function.
Can contribute to healthy sexual function.
Zinc
Supports hair, skin and nail health.
Supports hair, skin and nail health.
Customer Reviews
Individual results may vary.