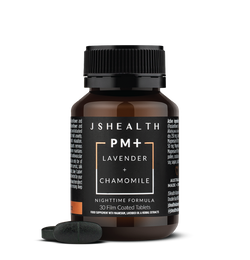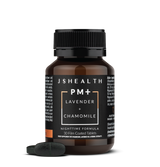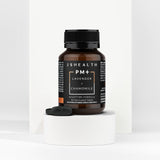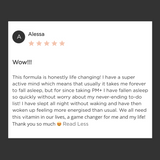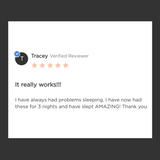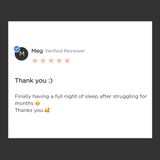 PM+ Lavender + Chamomile Formula - 1 Month Supply
Our best-selling formula designed for nighttime to support slumber, a calm mind, muscle relaxation and... More
Our best-selling formula designed for nighttime to support slumber, a calm mind, muscle relaxation and nervous system health.


people have just viewed this formula
Exclusive member savings
Cancel or edit at anytime
Regular rewards + gifts!
Access to the JSHealth App
Early access to sales!
Our Award-Winning nighttime formula
Nutritionist formulated in Australia
Designed to support slumber
Soothes the nerves
Supports mental wellbeing
Supports normal muscle function
PM+ Nighttime Formula - 30 Tablets. Australian Made.
Prepare your body and mind for a restful and rejuvenating night's slumber with the PM+ Nighttime formula. Created with a special blend of herbs and minerals, this formula is designed to support quality shut eye, nervous system function and mental wellbeing.
SLEEP: Lavender contributes to normal nighttime rest and promotes calmness.
CALM MIND: Lavender is used to support emotional wellbeing.
RELAXATION: Magnesium maintains and supports muscle function, healthy muscle contraction function, healthy neuromuscular system and function, nervous system health and nervous system function. It also maintains and supports bone health and energy production.

Take a look at the verified customer results below.
Carefully formulated to care for you,

The JSHealth PM+ Nighttime formula contains Lavender, Magnesium and Chamomile.
Active ingredients per film coated tablet:
Passiflora incarnata (Passionflower) ext. dry conc. 250 mg
from flower dry 1.25 g
Matricaria chamomilla (Chamomile) ext. dry conc. 25 mg
from flower dry 250 mg
Lavender Oil 81 mg
Magnesium citrate 507.52 mg
equiv. Magnesium 81 mg
Magnesium glycinate 359.20 mg
equiv. Magnesium 50 mg
Magnesium amino acid chelate 100 mg
equiv. Magnesium 20 mg
Total Magnesium 151 mg
Ingredients: Magnesium citrate, Magnesium glycinate, Bulking agent (Dicalcium phosphate), Passionflower (Passiflora incarnata) flower extract, Bulking agent (Microcrystalline cellulose), Magnesium amino acid chelate, Disintegrant (Povidone), Lavender oil, Carrier (Maltodextrin), Anti-caking agent (Silicon dioxide), Disintegrant (Croscarmellose sodium), Disintegrant (Crospovidone), German chamomile (Matricaria chamomilla) flower extract, Anti-caking agent (Magnesium stearate), Tablet coating (Hypromellose, Colour [Copper chlorophyllin], Polyethylene glycol, Glazing agent [Carnauba wax]).
Vegan formula. Does not contain crustacea, egg, fish, milk, peanut, sesame, tree nut, animal products or artificial colours.
♻︎ All JSHealth Vitamins are recyclable in your normal household recycling. We use HDPE and PET recyclable plastic to reduce packaging waste. Please recycle your bottles.
Adults, take 1 tablet per day in the evening with a main meal.
Do not exceed the recommended daily amount.
Food supplements should not be used as a substitute for a varied and balanced diet and a healthy lifestyle.
If you are pregnant, breastfeeding or under medical supervision, as always, follow the advice of your healthcare professional when taking food supplements.
Store in a cool, dry place away from moisture and direct sunlight.
Keep out of reach of children.
Do not use if the cap seal is broken or missing.
This is an international product. Slight variations to label text may occasionally occur.
The PM+ Nighttime formula supports slumber and soothes the nerves at the same time. Magnesium contributes to the normal functioning of the nervous system and muscle function.
This nighttime formula is gentle yet effective, making it generally suitable for everyone. Meanwhile, the bonus benefits are that this formula also works to support your overall musculoskeletal system and nervous system for general wellbeing.
Features three different forms of Magnesium
Signature blend of herbs and nutrients
Convenience of one tablet in the evening
Comprehensive nighttime support
Nutritionist formulated in Australia
QUALITY + CARE:
Our team of health experts source the ingredients in our products with great care. We ensure quality actives are placed in each of our targeted formulas to achieve its indications.
We believe in nourishing your health, confidence and wellbeing with a holistic approach.
The indications behind our ingredients:
MAGNESIUM

Contributes to normal psychological function
Contributes to normal muscle function
Contributes to the normal functioning of the nervous system
Maintains and supports nervous system health
Maintains and supports bone health
Maintains and supports energy production
Estimated delivery times (business days).
Standard Shipping 3-5 Business Days (€7)
FREE for orders over €50
Express Shipping 1-2 Business Days (€12) via DHL Express
FREE for orders over €100
KEY INGREDIENTS
JSHealth believes in truly nurturing the body and nourishing it with the right nutrients, minerals and herbs to reach its full potential.
MAGNESIUM
Contributes to normal nervous system and muscle function.
Contributes to normal nervous system and muscle function.
Customer Reviews
Individual results may vary.