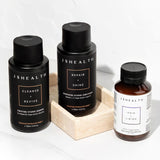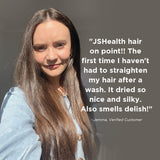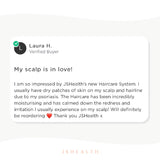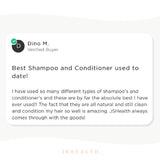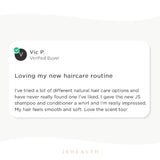 Inside-Out Hair Lovers Bundle
Support your hair journey from inside and out with our best-selling ingestible Hair + Libido formula... More
Support your hair journey from inside and out with our best-selling ingestible Hair + Libido formula and natural, topical 2-Step Vitamin Haircare System + FREE brush!


people have just viewed this formula
Exclusive member savings
Cancel or edit at anytime
Regular rewards + gifts!
Access to the JSHealth App
Early access to sales!
Hair + Libido Formula 30's

Purifying Vitamin Shampoo

Nourishing Vitamin Conditioner

FREE Signature Hair Brush
Gluten-Free. GMO-Free. Aus Made.
WE KNOW HAIR, INSIDE-OUT
As experts in the ingestible haircare space, we decided to create our natural topical hair range to provide complementary support with topical vitamins from the outside, which can be used as part of your haircare journey, alongside our best-selling Hair + Energy capsules.
HAIR + LIBIDO: Our ingestible hair formula for those who want support in the bedroom too! It contains Iodine from signature JSHealth Kelp™ and Zinc to support hair growth and health when dietary intake is inadequate. Plus, the addition of the ingredient Tribulus support healthy libido and sexual function, based on traditional Ayurvedic medicine.

PURIFYING VITAMIN SHAMPOO: A clean innovation for scalp and hair, formulated to gently foam, cleanse and purify, whilst revitalising, replenishing and building shine.
NOURISHING VITAMIN CONDITIONER: Ultra-hydrating and repairing, this luxurious cream conditioner uses an advanced nutrient molecule delivery system to deeply infuse hair and scalp with restorative + shine-enhancing actives.
SIGNATURE HAIR BRUSH: Our gift to you… Complete your haircare routine with our exclusive logo-embossed brush. Stylish and ergonomic, this hair tool effortlessly detangles and smoothes hair from scalp to ends.
Take a look at the verified customer results below.
Carefully formulated to care for you.
Refer to the individual product pages for full ingredients, indications, warnings and further information.
Nourishing Vitamin Conditioner
♻︎ All JSHealth Vitamins are recyclable in your normal household recycling. We use HDPE & PET recyclable plastic to reduce packaging waste. Our JSHealth Vitamins Hair range is housed in 50% recycled plastic containers. Please recycle your bottles.
Hair + Libido: Adults, take 1 tablet with water once daily, in the morning with breakfast, or as directed by your health professional. We strongly advise you consume this formula on a full stomach. The maximum dosage is 1 tablet daily.
2-Step Vitamin Haircare System:
Purifying Vitamin Shampoo - Massage into wet hair to build a natural lather. Rinse well.

Nourishing Vitamin Conditioner - Spread over hair length and scalp. Leave for 2-3 minutes. Add more water and massage gently to activate. Rinse thoroughly.
WARNINGS:
Always read the label and follow the directions for use. If symptoms persist, talk to your health professional. Vitamins and minerals can only be of assistance if dietary intake is inadequate.

Store below 25°C in a cool, dry place away from sunlight.

Do not use if the seal on cap/lid has been broken.

May contain traces of crustacea (shellfish) and fish, as kelp is a seaweed which may have come in contact with fish and crustacea in the ocean (Hair + Energy).

If you are pregnant, breastfeeding or have a thyroid condition, please consult a health care professional before use (Hair + Energy).
Estimated delivery times
Standard Shipping 5-7 Business Days (€7)
FREE for orders over €50
Express Shipping 1-2 Business Days (€12) via DHL Express
FREE for orders over €100
Customer Reviews
Individual results may vary.