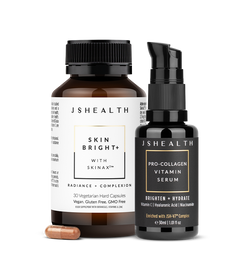 Skin Radiance Bundle
Harness inside-out radiance with this targeted skincare and supplement combination. Our Skin Bright+ formula is... More
Harness inside-out radiance with this targeted skincare and supplement combination. Our Skin Bright+ formula is paired with our Pro-Collagen Vitamin Serum to illuminate your skin confidence.


people have just viewed this formula
Refer to the individual product pages for full ingredients, indications and warnings.
♻︎ All JSHealth Vitamins are recyclable in your normal household recycling. We use HDPE & PET recyclable plastic to reduce packaging waste. Please recycle your bottles.
Skin Bright+: Adults, take 1 capsule with water, after food, once daily, or as directed by your health professional. Do not exceed a maximum of 2 capsules per day.
Pro-Collagen Vitamin Serum: Dispense 2-3 pumps of this age-defying serum onto your fingertips. Pat over face and décolletage, gently working it into the skin. Allow to absorb into the skin for 30 seconds, before applying oils or creams. Use morning and night.
WARNINGS:
Always read the label and follow the directions for use. If symptoms persist, talk to your health professional. Vitamins and minerals can only be of assistance if dietary intake is inadequate.

Store below 25°C in a cool, dry place away from sunlight.

Do not use if the seal on cap/lid has been broken.

Contains Zinc which may be dangerous if taken in large amounts or for a long period (Skin + Digestion).

Do not take if pregnant or breastfeeding, due to the ingredient Aloe Vera not being recommended during this time (Skin + Digestion).

Do not exceed a maximum of 2 capsules per day (Skin Bright+).
Refer to the individual product pages for what makes each of these formulas unique!
QUALITY + CARE:
Our team of health experts source the ingredients in our products with great care. We ensure quality and specific doses of actives are placed in each of our targeted formulas to achieve its indications.
We believe in nourishing your health, confidence and wellbeing with a holistic approach.
Customer Reviews
Individual results may vary.