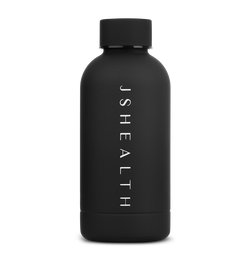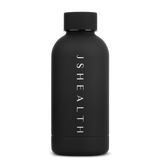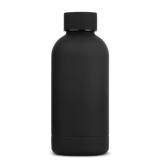 JSHealth Eco Water Bottle
Elevate your hydration routine with our exclusive logo-embossed JSHealth Vitamins Eco Water Bottle. Sleek, practical,... More
Elevate your hydration routine with our exclusive logo-embossed JSHealth Vitamins Eco Water Bottle. Sleek, practical, and perfect for on-the-go!


people have just viewed this formula
Exclusive member savings
Cancel or edit at anytime
Regular rewards + gifts!
Access to the JSHealth App
Early access to sales!
Encourages consistent hydration

Ideal for on-the-go lifestyles

Premium matte black finish - 250ml

Screw top leak-proof lid

Durable + BPA-free material

Adorned with signature JSHealth Vitamins logo
JSHealth Vitamins - 250ml Water Bottle. Eco-Friendly.
Stay hydrated with the perfect blend of style and functionality.
The ultimate hydration companion you need in your routine! Stay refreshed, rejuvenated, and never miss your hydration goals with the JSHealth Vitamins Eco Water Bottle.
Finished in a soft touch matte black coating with leak-proof screw top lid, ideal for everyday use.
Made from durable, BPA-free materials.
Stay hydrated with JSHealth. Here's to a healthier, more vibrant you!
Drink more water. Water keeps every system in the body functioning properly. Since your brain is mostly water, drinking more of it helps you think, focus, concentrate better and be more alert.
We need water…
To maintain balance: Water plays a vital role in maintaining the balance of bodily fluids, which aid digestion, absorption, circulation, creation of saliva, transportation of nutrients and regulation of body temperature.

For optimal skin health: Adequate hydration helps to keep our skin looking vibrant and youthful. It aids in maintaining skin elasticity and replenishes skin tissues, leaving you with an overall healthy and glowing complexion.

To support physical performance: Water is crucial for muscle function. Staying hydrated helps prevent muscle fatigue, keeps your joints lubricated, and allows the body to recover faster after workouts.

For cleansing and detoxification: Water aids in flushing out toxins from our body through urination, perspiration and bowel movements. This process helps to keep our kidneys healthy and functioning optimally.

To boost energy levels: Dehydration can lead to feelings of lethargy and tiredness. Regular water intake ensures that your body functions efficiently, thereby boosting your energy levels.
Estimated delivery times (business days).
Standard Shipping 3-5 Business Days (€7)
FREE for orders over €50
Express Shipping 1-2 Business Days (€12) via DHL Express
FREE for orders over €100
Customer Reviews
Individual results may vary.