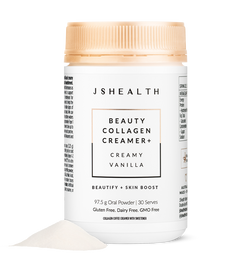 Collagen Beauty Creamer - 30 Serves
Marine Collagen peptides unite with delicious coconut milk and creamy vanilla to give your daily... More
Marine Collagen peptides unite with delicious coconut milk and creamy vanilla to give your daily beverage a dose of beauty-boosting nourishment. Using premium Collagen brand, Peptan.


people have just viewed this formula
Exclusive member savings
Cancel or edit at anytime
Regular rewards + gifts!
Access to the JSHealth App
Early access to sales!
A delicious beauty-boost for coffee, or your favourite drink
Nutritionist formulated in Australia
Decreases fine lines and wrinkles
Improves skin elasticity and new collagen production
Improves hair strength
Improves digestibility and bioavailability
Significantly contributes to improving the overall appearance of skin and hair
Free from dairy, refined sugar + gluten
97.5g Powder. 30 Serves. Australian Owned. Gluten Free. GMO Free. UK Manufactured. Made using collagen from France.
Our hydrolysed Marine Collagen peptides unite with delicious coconut milk and creamy vanilla to give your beverage a dose of beauty-boosting nourishment.

Collagen is the primary building block for skin, hair and nails, which decreases as we age.
Our collagen is hydrolysed for high absorption. These bioactive peptides work by maintaining skin elasticity to help the skin appear plump. We use premium Peptan collagen peptides that also improve hair strength and significantly contribute to improving the overall appearance of skin and hair.
Where is our collagen from?
We use 100% pure, sustainably sourced, wild deep sea cod skin. Our Marine Collagen contains primarily Type 1 collagen, which is the building block for beautiful skin, flexible connective tissues and strong bones.
Beauty Collagen Creamer + is creamy vanilla coconut flavoured.
Take a look at the verified customer results below.
Carefully formulated to care for you.
The JSHealth Collagen Beauty Creamer formula contains Peptan hydrolysed Marine Collagen peptides in a creamy vanilla and coconut milk base.
Each 3.25g serve contains: Hydrolysed Marine Collagen (Fish) (92%), Coconut Milk powder (3%), Maltodextrin, Flavour, Anti-caking agent (Silicon dioxide), Acidity Regulator (Malic acid), Sweetener (Steviol glycosides from stevia).
Allergens: See ingredients listed in bold.
Contains Fish.
Does not contain egg, milk, peanut, sesame, soy or tree nut products, artificial colours or sweeteners, or synthetic flavours.
♻︎ All JSHealth Vitamins are recyclable in your normal household recycling. We use HDPE and PET recyclable plastic to reduce packaging waste. Please recycle your bottles.
Shake container before use. Mix or whisk 1 level scoop (3.25g) of powder into approximately 200ml of a hot/warm beverage (perfect in coffee), hot or cold oats, a smoothie, or your favourite iced drink, and consume immediately. Close the container tightly after each use.
Do not exceed the recommended daily amount.

Food supplements should not be used as a substitute for a varied and balanced diet and a healthy lifestyle.

If you are pregnant, breastfeeding, under medical supervision or taking any medications, consult a doctor before use.

Store in a cool, dry place away from moisture and direct sunlight.

Keep out of reach of children.

Do not use if cap seal is broken or missing.

We advise anyone with a fish/shellfish allergy not to use this product.
This is an international product. Slight variations to label text may occasionally occur.
This delicious formula is an easy way to take your hot and cold beverages to the next level with a nutritious boost of Marine Collagen, without any dairy or refined sugar.
JSHEALTH MARINE COLLAGEN IS:
Hydrolysed Peptan collagen peptides for high absorption

100% wild-caught fish

Support skin firmness and elasticity, and reduces wrinkles

Shown to improve hair strength

Proven to support and maintain collagen and skin elasticity

Sustainably sourced (MSC Certified)
QUALITY + CARE:
Our team of health experts source the ingredients in our products with great care. We ensure quality actives are placed in each of our targeted formulas to achieve its indications.
We believe in nourishing your health, confidence and wellbeing with a holistic approach.
MARINE COLLAGEN (PEPTAN)
Maintains and supports skin firmness
Decreases fine lines and wrinkles
Maintains and supports skin elasticity
Significantly contributes to improving the overall appearance of skin and hair
Improves hair strength
Estimated delivery times (business days).
Standard Shipping 3-5 Business Days (€7)
FREE for orders over €50
Express Shipping 1-2 Business Days (€12) via DHL Express
FREE for orders over €100
Customer Reviews
Individual results may vary.