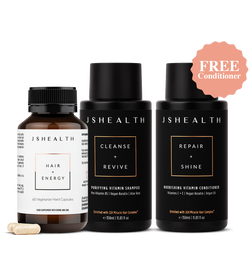 Inside-Out Haircare
Ready to really support your hair goals? Grab the 3-Step Set and enjoy the Conditioner... More
Ready to really support your hair goals? Grab the 3-Step Set and enjoy the Conditioner on us!


people have just viewed this formula
Exclusive member savings
Cancel or edit at anytime
Regular rewards + gifts!
Access to the JSHealth App
Early access to sales!
Hair + Energy Formula 60s


Purifying Vitamin Shampoo

FREE Nourishing Vitamin Conditioner
Refer to the individual product pages for full ingredients, indications, warnings and further information.
Nourishing Vitamin Conditioner
♻︎ All JSHealth Vitamins are recyclable in your normal household recycling. We use HDPE & PET recyclable plastic to reduce packaging waste. Our JSHealth Vitamins Hair range is housed in 50% recycled plastic containers. Please recycle your bottles.
Hair + Energy: Take 1 capsule per day with breakfast, or as directed by your healthcare professional. We strongly advise taking this formula on a full stomach. The maximum dosage is 1 hard capsule daily.
2-Step Vitamin Haircare System:
Purifying Vitamin Shampoo - Massage into wet hair to build a natural lather. Rinse well.

Nourishing Vitamin Conditioner - Spread over hair length and scalp. Leave for 2-3 minutes. Add more water and massage gently to activate. Rinse thoroughly.
WARNINGS:
Always read the label and follow the directions for use. If symptoms persist, talk to your health professional. Vitamins and minerals can only be of assistance if dietary intake is inadequate.

Store below 25°C in a cool, dry place away from sunlight.

Do not use if the seal on cap/lid has been broken.

May contain traces of crustacea (shellfish) and fish, as kelp is a seaweed which may have come in contact with fish and crustacea in the ocean (Hair + Energy).

If you are pregnant, breastfeeding or have a thyroid condition, please consult a health care professional before use (Hair + Energy).
Refer to the individual product pages for what makes each of these formulas unique!
Nourishing Vitamin Conditioner
QUALITY + CARE:
Our team of health and beauty experts source each ingredient in our products with great care, ensuring quality and specific doses or concentrations of actives.
Customer Reviews
Individual results may vary.